Steve's Towing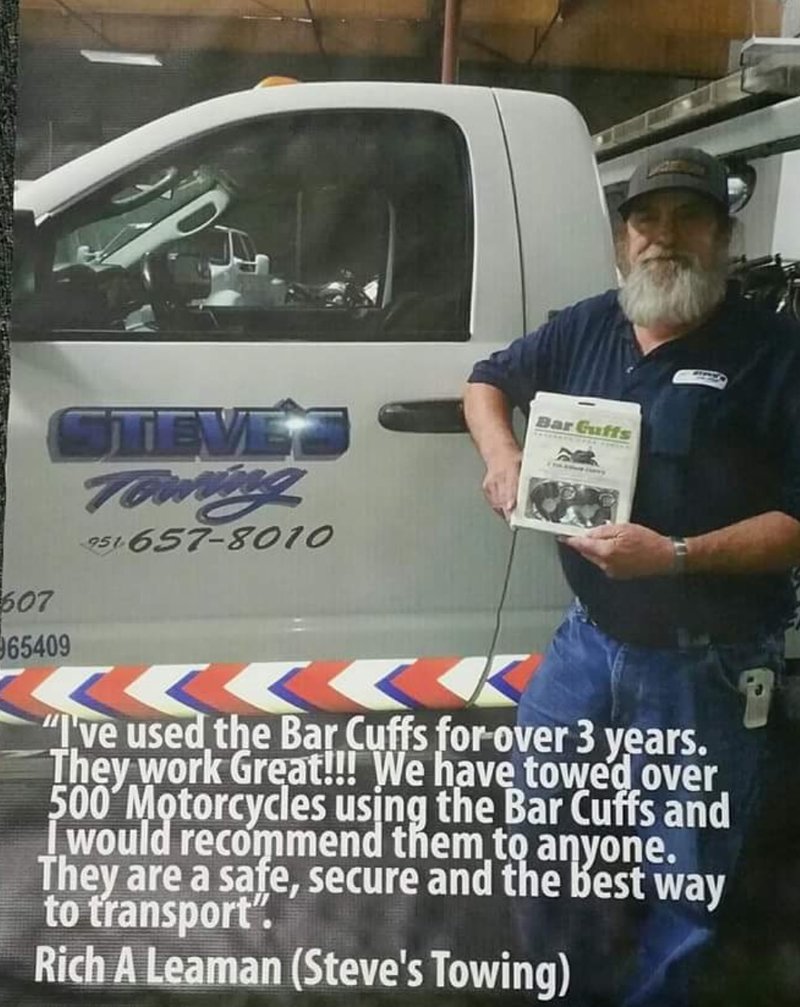 EDITORIAL REVIEW in Road Iron December 2013
————-
AD IN V-TWIN December 2013
————–
TESTIMONIAL August 12, 2013
"Thank you for the fast shipping and great product.
This is my first set of tie downs for my new scooter on my RV and I wanted a secure way to tie down my scooter without damaging the paint.
This tie down system exceeds my engineering ideas of transporting any sport equipment on the market today."
– Ralph R.
—————
ARTICLE in STREET CHOPPER MAGAZINE June/July 2013 Issue
Street Chopper Magazine June/July 2013 Issue.
Awesome Bar Cuffs Article Inside!
TESTIMONIAL June 7, 2013
"tell you again how great a product the Bar Cuffs are; we haul our bikes in a toy hauler and are continually searching for a way to tie his bike down that is easier (I have a Spyder so mine is easy to secure)…Thanks."
– Freddie B.
———–
TESTIMONIAL June 6, 2013
"IT WAS JUST WHAT I WAS LOOKING FOR TO TIE DOWN MY HARLEY OR MY FOUR WHEELER IN MY TOYHAULER. I RECIEVED THEM AND THRY WERE BETTER THAN I EXPECTED,AND I WAS EXPECTING ALOT, THANKS FOR MAKING A SUPER PRODUCT."
– Joe Z.
———–